The Court of Arbitration for Sport ruled in favor of Maria Sharapova who presented an appeal after the ITF decided to ban her for two years. The court reduced her suspension to 15 months after determining that she acted with "no significant fault." This mean Sharapova will be able to hit the courts again after April 26th, 2017 just in time for the second major of the year. Click here to read the full statement of facts
Maria Sharapova published a statement on her Facebook page
"I've gone from one of the toughest days of my career last March when I learned about my suspension to now, one of my happiest days, as I found out I can return to tennis in April.

In so many ways, I feel like something I love was taken away from me and it will feel really good to have it back. Tennis is my passion and I have missed it. I am counting the days until I can return to the court.

I have learned from this, and I hope the ITF has as well. CAS concluded that "the Panel has determined it does not agree with many of the conclusions of the [ITF] Tribunal.

I have taken responsibility from the very beginning for not knowing that the over-the-counter supplement I had been taking for the last ten years was no longer allowed. But I also learned how much better other Federations were at notifying their athletes of the rule change, especially in Eastern Europe where Mildronate is commonly taken by millions of people.

Now that this process is over, I hope the ITF and other relevant tennis anti-doping authorities will study what these other Federations did, so that no other tennis player will have to go through what I went through.
And to my fans, ( Hello SharaFamily!!), I thank you so much for living and breathing so many of these tough months together. During this time, I have learned the true meaning of a fan and I am so fortunate to have had your support.

I'm coming back soon and I can't wait."
In a 28-page decision, the independent panel said the suspension imposed by the International Tennis Federation for Sharapova's use of the banned drug meldonium was reduced, in part, because "under no circumstances … can the player be considered to be an 'intentional' doper."
WTA CEO Steve Simon added:
 "The TADP has a comprehensive and fair process in place and we support the final result," WTA CEO Steve Simon said. "We are pleased that the process is now at completion and can look forward to seeing Maria back on court in 2017."
In addition, HEAD released the following statement.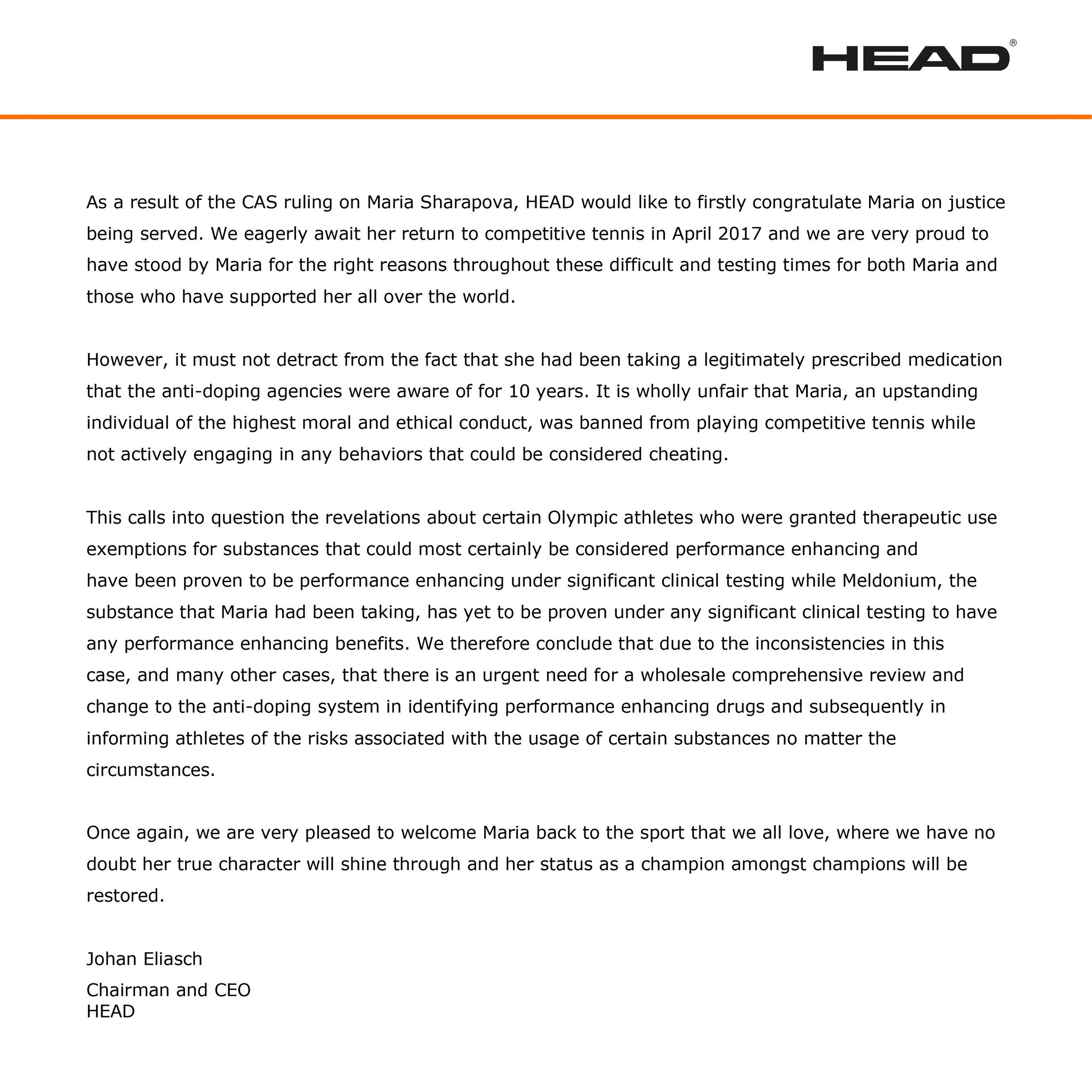 Evian continued their support to Maria while Nike and Porsche have reestablished her contract.